The price of PEPE has experienced a significant decline of over 45% since reaching its monthly high of $0.00000183 on July 3. Based on on-chain data, a shift in investor sentiment from PEPE to Dogecoin (DOGE) might impede the possibility of a swift price rebound.
PEPE staged a surprise comeback in late June, racing towards $0.0000018 by July 3. With a lackluster display in recent times, PEPE has witnessed investors shifting their focus toward the surging DOGE.
Dogecoin Price Rise and PEPE Network Decline
Based on on-chain data, a shift in investor sentiment towards the PEPE network appeared following the notable rally in Dogecoin price during mid-July. The chart Santiment provided showcases the DOGE price's upward trajectory (represented by the yellow line) starting from $0.065 and culminating at $0.082 on July 26, marking a significant 25% increase.
Intriguingly, during that particular period, the PEPE Daily Active Addresses (represented by the green line) experienced a decline, going from 5,086 on July 14 to 1,999 active users documented by the conclusion of July 25.
The observed data indicates a significant decrease of 61% in utilizing the PEPE network. As expected, the price of PEPE has experienced a substantial decline of 45% over the past three weeks.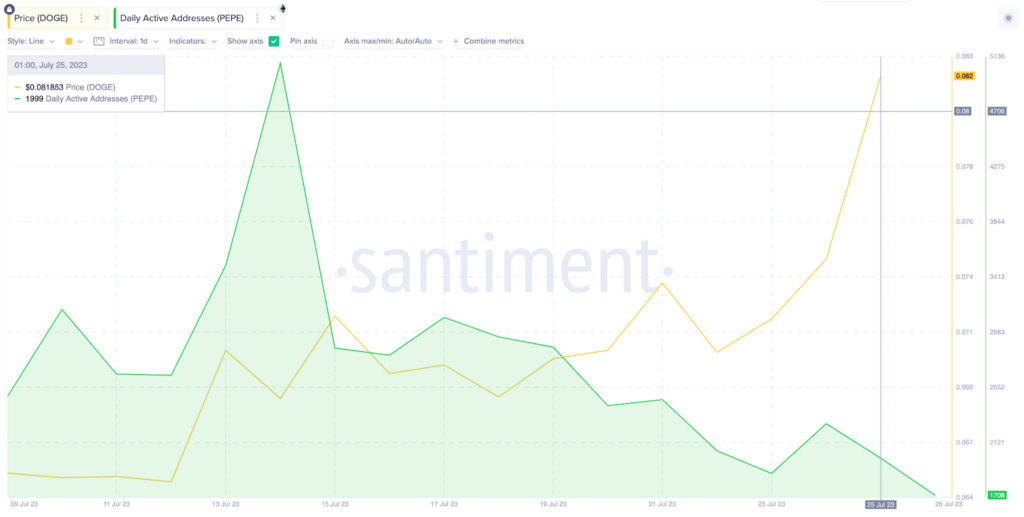 Investors are selling PEPE and buying Dogecoin | PEPE Daily Active Addresses vs. DOGE Price, July 2023
Daily Active Addresses is a metric that assesses fluctuations in network activity by monitoring the number of distinct wallet addresses engaged in daily transactions. A persistent downtrend indicates a diminishing interest in the underlying asset.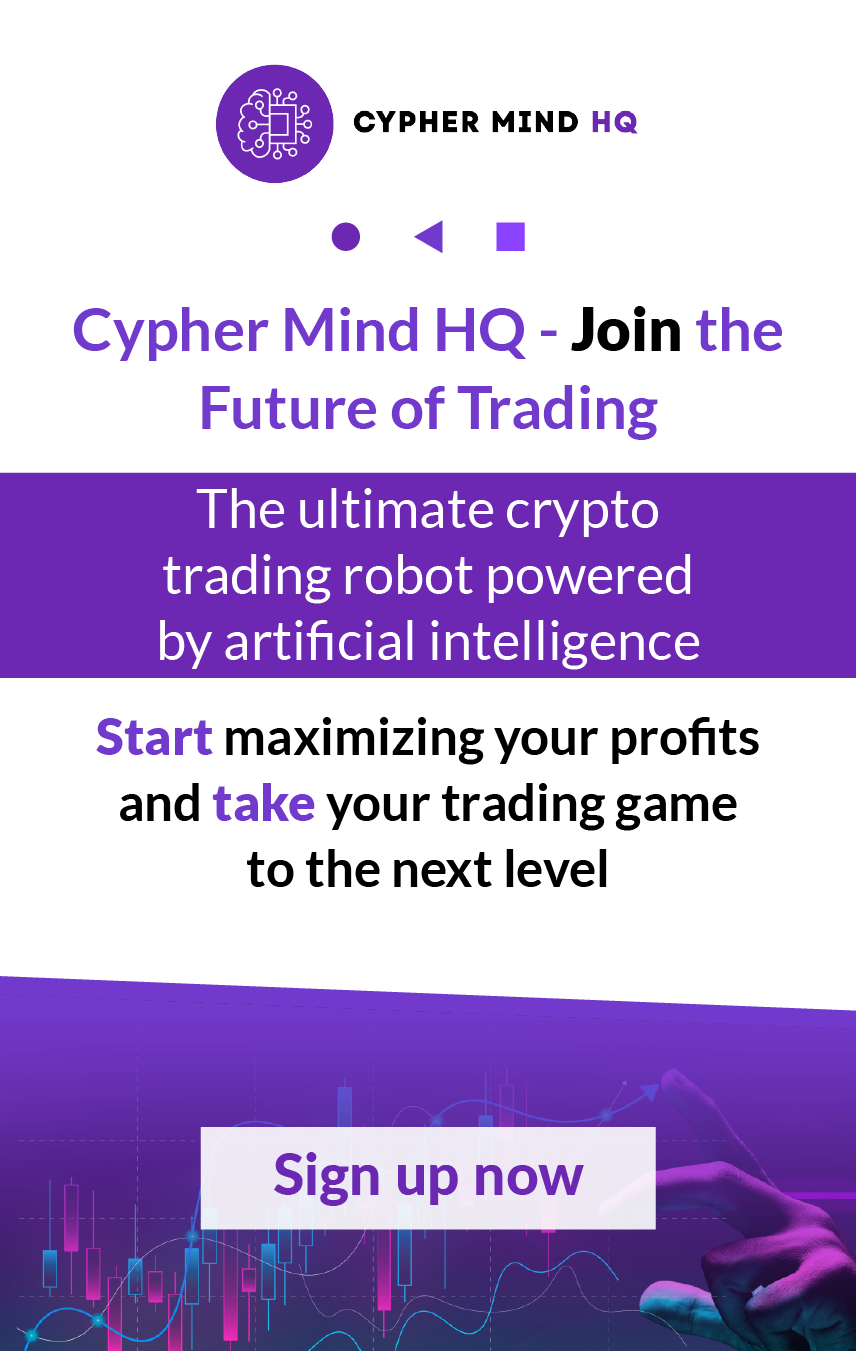 Noticeably, active users of PEPE experienced a decline starting from July 14, merely two days following the commencement of the Dogecoin price surge. The observation implies that enthusiasts of meme coins are abandoning the PEPE network in favor of embracing Dogecoin.
Amidst the investor exodus, market share experiences a parallel descent.
As illustrated herein, the PEPE Network Growth has experienced a decline coinciding with the commencement of the DOGE price rally on July 14. From July 14 to July 25, there was a significant decline in Network Growth, with a decrease of 73% observed. The number of new addresses went down from 1,703 to 463.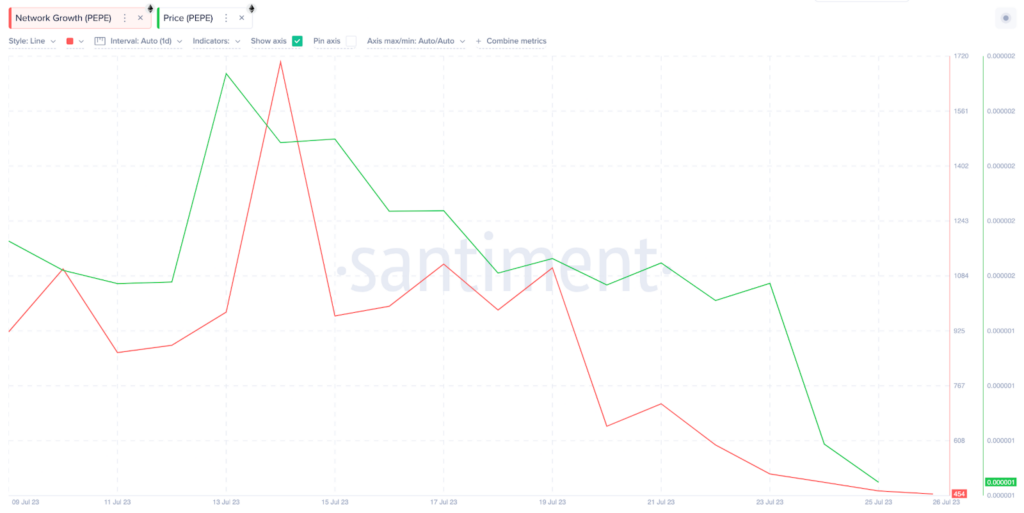 Investors are switching from PEPE to Dogecoin | Growth of the PEPE network in July 2023 | Source: Santiment
Network Growth is a metric that quantifies the velocity at which a blockchain network garners fresh participants. As noted, a sustained downtrend over a prolonged duration indicates the underlying token's potential challenge in garnering adequate demand in the following weeks.
Furthermore, it is worth noting that there has been a decline in market share for PEPE when compared to its competitors within the meme coin realm. Therefore, should the price of Dogecoin persist in its upward trajectory, PEPE's potential resurgence may prove unattainable.
Price Prediction for PEPE: Bear Could Add One More Zero
The price of PEPE has the potential to experience a significant increase, potentially resulting in an additional zero, followed by a retracement below $0.0000010. Should this trend persist, this scenario may occur if investors opt to sell their PEPE holdings to acquire Dogecoin.
IntoTheBlock's Break-Even Price distribution data shows that the resistance at $0.0000015 holds a significant potential upside.
A significant number of wallets, precisely 32,500, have acquired a substantial quantity of 84.8 trillion PEPE tokens. These tokens were obtained at an average price of $0.0000010 per token. A potential catalyst for a price resurgence may arise as individuals seek to acquire additional permits to avert the risk of descending into a position of negative returns.
However, suppose a continuous influx of PEPE is being exchanged for alternative meme coins such as Dogecoin. In that case, there is a possibility that the value of PEPE may decline to a level below $0.0000010.

The PEPE (PEPE) price prediction for July 2023, based on Break-Even Price data, has been sourced from IntoTheBlock.
However, should PEPE reclaims a value of $0.0000020, the bullish forces may overturn the prevailing bearish narrative. However, it is worth noting that a portion of the vast number of addresses, precisely 62,500, currently possess a staggering amount of 199.3 trillion tokens, all acquired at an average price of $0.0000020. This accumulation has the potential to exert downward pressure on the market.
However, should the bullish momentum prevail, the resistance level may be overcome, propelling the PEPE price toward the approximate value of $0.0000030.